Recycling and recovery
New contract to recover hazardous waste: in Shanghai, SUEZ NWS joins forces with SCIP & SAIC Motor
Following the successful collaboration with Shanghai Chemical Industry Park (SCIP), SUEZ NWS, SCIP and SAIC
1
Motor, a major Chinese automotive manufacturing company, are joining forces to recover hazardous waste from automotive sector and clients inside the industrial park. With a total investment of RMB450 million, this contract will address the increasing demand for hazardous waste treatment while supporting them towards environmental growth.
SUEZ NWS has formed a joint venture2 with SCIP and SAIC Motor that will be responsible for the investment, construction, and operation of the hazardous waste to energy facility. It will provide specialized hazardous waste treatment services to the different production sites of SAIC Motor in Shanghai and to the increasing volume of hazardous waste generated by clients inside the Park. Construction work will begin in Q1 2021 and be completed by late 2022. With a total capacity of 40,000 tons/year, the facility will be equipped with waste treatment technologies in compliance with the most stringent European greenhouse gas emissions and fine particulates standards in force.

SUEZ NWS has been providing hazardous waste treatment and recovery services in SCIP since 2006. Currently it has a hazardous waste to energy plant, composed of three lines with annual treatment capacity of 120,000 tons, which can treat the industrial waste of 24 categories and 310 types on the national list of hazardous waste.

Zhang Chun, SCIP General Manager, said: "The signing of this joint venture agreement demonstrates strong alignment among the three signatories around hazardous waste treatment and resource recycling. The new joint venture is committed to providing specialized, high-quality hazardous waste treatment services for SCIP and SAIC Motor. We aspire to become an industry benchmark, with core technological competencies. We also want to continue the transformation of SCIP into a showcase for green industrial parks."
"I believe that through synergies and the alignment of resources among the three parties, we will make the joint venture an industry benchmark, characterized by stable economics, core competencies and brand influence," said Cai Bin, Assistant President of SAIC Motor. "We look forward to broader cooperation throughout the joint venture and beyond. We are committed to jointly developing a new ecosystem of environmental services."




SUEZ NWS's Longstanding Partnership with SCIP
SUEZ NWS first partnered with SCIP in water in 2002. A year later, it expanded the cooperation to include hazardous waste treatment. These two projects have been recognized as success stories of excellent third-party environmental governance in Chinese industrial parks, due to their track record of promoting the circular economy, energy conservation and emissions reduction. Over the course of the alliance, the two parties have also set up water and waste R&D centers, as well as an ecological wetland project in the park.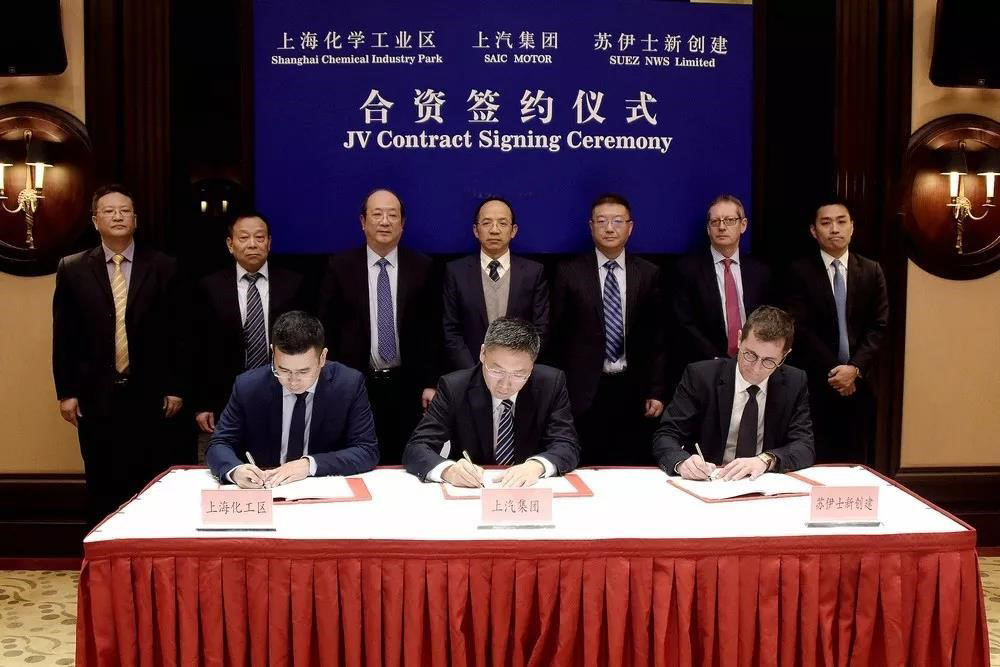 JV Signing Ceremony among SUEZ NWS, SCIP and SAIC Motor
1 Shanghai Automotive Industry Corporation (SAIC) Motor Co., Ltd.
2 The joint venture is established between SUEZ NWS (30%), SCIP (35%), and SAIC Motor Co., Ltd. (35%)