Group
2018 annual results: targets exceeded record organic growth in revenue and operating income (ebit) continued growth in 2019
2018 ANNUAL RESULTS: TARGETS EXCEEDED
RECORD ORGANIC GROWTH IN REVENUE AND OPERATING INCOME (EBIT) CONTINUED GROWTH IN 2019
2018 targets exceeded

: Revenue and EBIT up

11.9%

and

11.5%,

respectively, at constant exchange rates

1

; Free cash flow in excess of €1bn

Strong performance by WTS, with organic revenue growth up 6.7% and full-year synergies exceeding the target at $30m

Net income Group share up 13.4%

2018 dividend per share of €0.65 to be proposed at the Annual General Meeting on May 14, 2019
2019 outlook

2

:

Organic growth in revenue of 2%-3% and in EBIT of 4%-5%

FCF growth of 7%-8%

Leverage ratio (Net debt/EBITDA) of c. 3 x in 2019

3

Continued ambition to lower leverage ratio in 2020

Dividend of €0.65 to be proposed at the Annual General Meeting in May 2020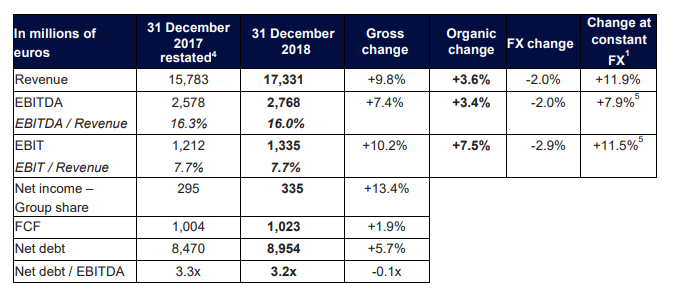 Meeting on 26 February 2019, the Board of Directors approved SUEZ's 2018 financial statements, which will be submitted for the approval of the Annual General Meeting on 14 May 2019. The consolidated financial statements have been audited and certified by the statutory auditors.
Commenting on these results, CEO Jean-Louis Chaussade, said:
"The Group had a strong year in 2018, exceeding the revenue, EBIT and free cash flow targets set at the beginning of the year. All divisions contributed to this excellent growth trend, with WTS and International performing particularly well. The first year of WTS's integration was altogether promising for the future and strengthens our belief that this strategic operation was the right choice for the Group. SUEZ's profitability also improved in 2018, despite headwinds from the sharp drop in the price of certain recycled raw materials and the rise in oil prices. The commercial results reported by each division demonstrate our ability to maintain profitable growth momentum for the Group."

2018 RESULTS

In 2018, Group revenue was €17,331m, up €1,548m versus 2017.
O

PERATING

P

ERFORMANCE




EBIT reached €1,335m at 31 December 2018, up +10.2% compared with 2017.
N

ET INCOME

G

ROUP SHARE

Net income Group share ended at €335m in 2018, up 13.4%
F

REE

C

ASH

F

LOW

AND

B

ALANCE

S

HEET



Free cash flow

was €1,023m, up 1.9% mainly due to the sharp improvement in operating cash flow to
€2,277m
, up 12.1% from 2017.
Net debt was €8,954m at 31 December 2018, for a net debt/EBITDA ratio of 3.2x, down 0.1x relative to December 2017 and in line with the Group's expectations.
As a result of these performances and its confidence in the future, SUEZ will propose a 2018 dividend of
€0.65 per share at the Annual General Meeting of Shareholders
on
14
May 2019.
________________________
1 At constant exchange rates, and before the impact of both the change in US tax law on regulated water activities and the depreciation charge associated with the purchase price allocation of GE Water
2 Assuming water volumes sold remain in line with historical trends, volumes of waste treated rise by 1.5% in Europe and raw materials prices are stable relative to 31 December 2018
3 Excluding impact of application of IFRS 16 accounting standard
4 For comparability purposes, the 2017 figures mentioned in this press release and which serve as a basis to calculate annual changes are restated following application of the IFRS 15 and IFRS 9 accounting standard as of 1 January 2018 and following GE Water purchase price allocation
5 Before the depreciation charge associated with the purchase price allocation of GE Water -€6m on EBITDA and -€41m on EBIT