Recycling and recovery
SUEZ NWS Partners with INVISTA to Promote Industrial Sustainability
SUEZ NWS and INVISTA recently signed a 15-year contract to expand their cooperation on hazardous waste disposal services for INVISTA's 400,000-ton adiponitrile (ADN) project. This is another important example of the customized and localized services that SUEZ offers to key industrial customers around the world. More importantly, this is an embodiment of SUEZ's firm commitment to a sustainable environment through the implementation of its "Shaping SUEZ 2030" comprehensive strategic plan.


The new contract is the third agreement between SUEZ and INVISTA, following two previous partnerships in China in 2015 and in North America in 2019. Given the special properties of adiponitrile waste, which is highly viscous and reactive to water and moisture, SUEZ NWS is committed to making dedicated upgrades to its existing production lines in Shanghai Chemical Industry Park (SCIP). This will have the benefit of supporting INVISTA, as well as the park, in their pursuit of the highest environmental standards.

INVISTA is one of the world's largest integrated manufacturers of chemical intermediates, polymers and fibers. Its new adiponitrile project, designed primarily for manufacturing nylon intermediates, is expected to start up in 2022. At that point, Shanghai will have a complete industrial value chain from adiponitrile to high-performance polymers, and the city will be the world's largest integrated production base for nylon 6,61.

INVISTA Vice President of Intermediates - Asia Pacific, Kyle W. Redinger said, "INVISTA's latest adiponitrile (ADN) technology brings improved product yields, reduced energy consumption, lower greenhouse gas emissions, enhanced process stability and reduced capital intensity compared to existing technologies. By deploying this technology and integrating with our existing downstream facilities in SCIP, INVISTA will directly supply domestic customers with the key building blocks to produce nylon 6,6 and other high-value products in China and throughout the Asia Pacific region. To make a project of this scale successful, we are reliant on our partners to ensure safe and efficient construction and operation. To this end, we are confident that this new partnership between INVISTA and SUEZ, building on years of successful cooperation, will enable us to further leverage SUEZ's expertise in hazardous waste disposal to jointly promote industrial sustainability."


SUEZ NWS has been providing specialized water production and industrial wastewater treatment services to SCIP since 2002, as well as hazardous waste treatment and energy recovery services, since 2006. Currently, its three production lines have a total capacity of 120,000 tons per year. To meet the increasing demand of customers inside the Park, in 2020, SUEZ NWS and SCIP also partnered with SAIC, a major Chinese automaker, to build a hazardous waste treatment facility in the park.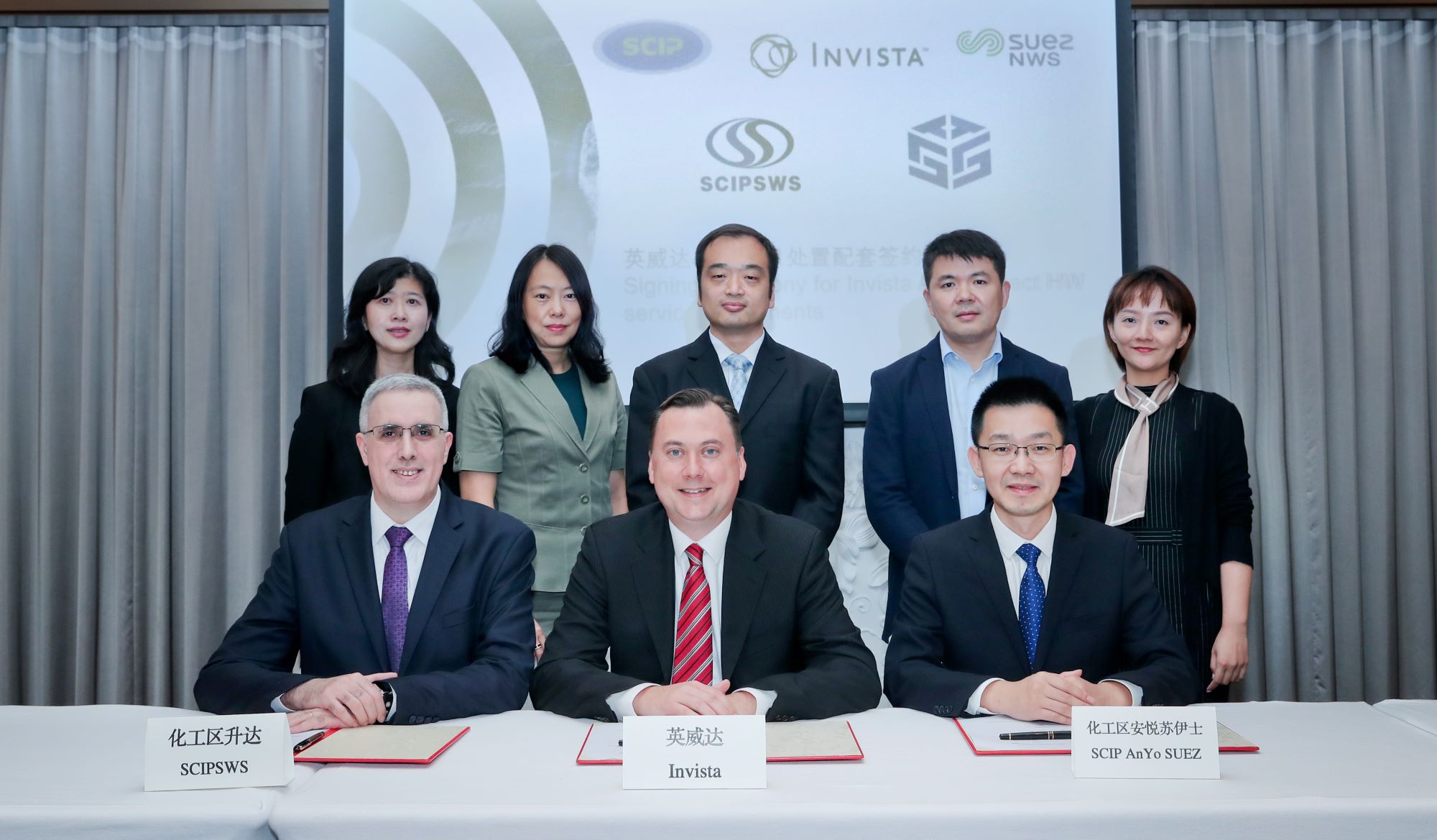 signing ceremony of the hazardous waste disposal services contract
A type of polyamide or nylon